Since Iam getting abit more into things I might aswell start a fresh thread as this is pretty much a fresh start on the car.
History:
After owning 2 other TF cortinas, which were both riddled with rust, I found another 1 owner example. After some small talk with the owner I managed to get it cheap. The log books and Ford manuals were chucked in with it. Its a TF S Pac Cortina, auto with the air-con.
The interior was in great condition, air-con didn't work and had only 123,000kms. The suspension was wore and but otherwise this thing drove really nice.
And the major bonus, no rust. At all. After owning 2 I knew where to look. It was perfect.
I replaced the steering and suspension with my old items I had at home which were re-coed and modified (H/D lowered springs, whiteline swaybars etc). I put on a set of extractors and a Weber carb off a XE falcon. Replaced the diff with my diff which is an LSD with 3.45:1 ratio.
The car ran a 15.96, still with the BW auto.
After this, I had a really, really bad experience with a backyard panel beater/spray painter, which I don't want to mention as it just upsets me too much, SO DON'T ASK!
Anyway, as of late, I have gotten back into it after a much needed break to calm down and replan things.
I have now mini-tubbed the car myself, by extending the standard tubs out to the chassis rail. I managed to gain enough clearance for a 265 tire and probably a 9" rear rim.
Iam making tutorials of all my steps now and putting them up on the ford cortina website. www.fordcortina.com.au
Here are a few pics
The day I bought it, at the previous owners house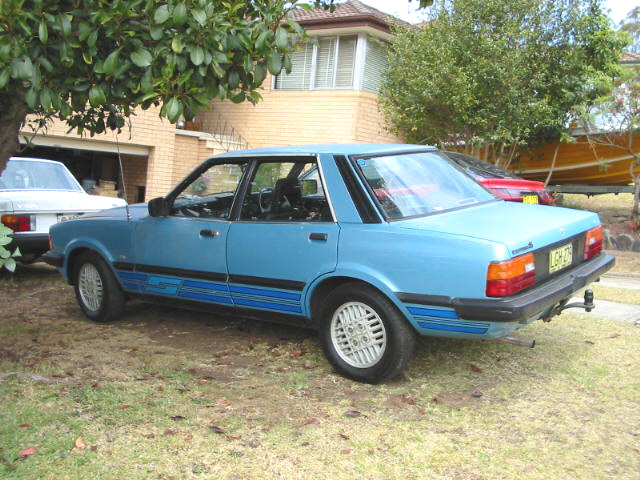 After installing the said bits above (main difference is its lowered)
Progress:
I have bought a few bits which I'll keep to myself until I install them as its not worth mentioning. But the basic idea is to go turbo 6 and have a really nice streeter. But I do want things to be done to the best of my ability. So what I can do, I will.
Tubs
Rotisserie
DOH! I've found some rust. Its in the cavity where the seatbelt reel sits in the sill panel. I've managed to cut out the infected peices bar the sill section. Photos up soon.
I was really hoping the car was all clean.
On a good note, I managed to remove all the sound deadening inside the car. Hell of a job but I got it all done and now can see all the seams really well for further stitch welding to strengthen the car up as much as possible.